Project Description
RoughNUC-Max is a highly configurable, rugged conduction cooled & vent free small form factor platform designed around Intel's Next Unit of Computing (NUC). RoughNUC-Max can accommodate the full range of NUC Chipsets & Processors for now and into the future. Next Units of Computing:
Ivy Bridge 3rd Gen Core Celeron, i3 & i5
Haswell 4th Gen Core i3 & i5
Both Celeron & Atom Baytrail
Plus Tunnel Creek Atom, the "Minnowboard"
As its name implies, the expansion bay areas of this platform's allows for maximum peripheral or customer I/P expansion well beyond just a SATA device. Need GPS, 3G.4G, CAN, Serial, I2C, SPI, POE, DAQ ? We are Ready!
RoughNUC-Max supports a wide range of Operating Systems:
Windows Compact 2013,  Automotive 7, WES7, WES8
Linux Ubuntu,Yocto
Virtualization Ready Image with choice of upto 2 Operating Systems pre-installed
Need a custom OS with Application examples for your end product? We are Ready!
RoughNUC-Max standard and application specific configurations are available to serve applications in the Transportation, Automotive Systems, Network Appliances, IoT Gateways and Digital Signage markets today. Here are just a few examples: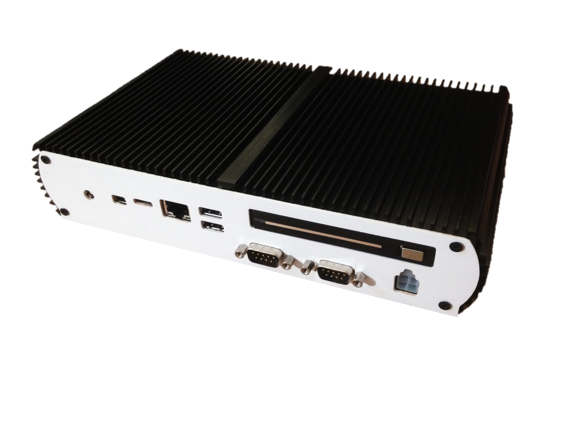 MaxTran Haswell i5/i3/Celeron NUC, DCDC Converter for wide input voltage range and delayed ON/OFF. Optional CANbus, Video Capture and Removable Drive Bay, 3G wireless, GPS, WiFi, IR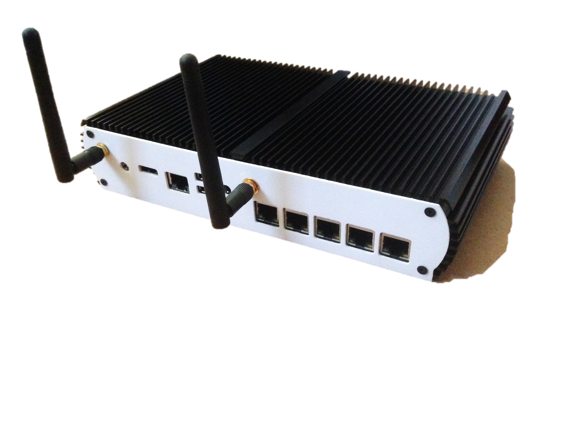 MaxCom Baytrail Atom/Celeron NUC, 5 GigE Router with 1xPOE, 3G wireless
MaxVMS Ivy Bridge i5 NUC, Triple Independent Displays, Removable Drive Bay
MaxCSR The RoughNUC-Max platform provides you with all the headroom for vast expansion. Coupled with Cadia's unique end-to-end solution architecting, the product you want will have a shorter time to market. Simply define for us the  NUC of choice and provide your specific system requirements.
RoughNUC-Max  offers maximum NUC expansion of your applications. The I/O you need, with the processor you want!
The RoughNUC-Max chassis has a small footprint of 240mm x 150mm x 48mm and offers highly efficient conduction cooling, serving as both a case and passive (fan-less) heatsink for the Intel processor.  Systems are available in both commercial and extended operating temperatures.
This new generation computing platforms provides flexible, customizable compute engines to drive digital signage, kiosks, video image capture, surveillance, HMI controllers, in-vehicle applications, command & control, industrial control, and intelligent computing for small spaces, or anywhere else you can imagine. The ruggedness of the RoughNUC-Max make it ideal for a wide range of markets and applications including aerospace, oil exploration, mining, in-vehicle, defense, process control and many, many more.
| | | | |
| --- | --- | --- | --- |
| RoughNUC-Max Platforms | System Sku | NUC Sku | Description |
| RoughNUC-Max | RNUCM-5WYB | D54250WYB | RoughNUC-Max Haswell i5, 4X USB 3.0, MiniHDMI, Display Port, GigE, SATA III |
| MaxTran | RNUCM-5WYB-2R2 | D54250WYB | RoughNUC-Max Haswell i5, 4X USB 3.0, 2X RS232, MiniHDMI, Display Port, GigE, SATA III, Programmable DCDC Converter |
| MaxTran | RNUCM-5WYB-2RD2 | D54250WYB | RoughNUC-Max Haswell i5, 4X USB 3.0, 2X RS232, MiniHDMI, Display Port, GigE, SATA III, Removable Drive, Programmable DCDC Converter |
| RoughNUC-Max | RNUCM-3WYB | D34010WYB | RoughNUC-Max Haswell i3, 4X USB 3.0, MiniHDMI, Display Port, GigE, SATA III |
| MaxVMS | RNUCM-5RKE | D53427RKE | RoughNUC-Max Ivy Bridge i5, 3X USB 2.0, HDMI, 2X Display Port, 3x GigE |
| RoughNUC-Max | RNUCM-TYBE | DE3815TYBE | RoughNUC-Max Baytrail Atom, 3X USB 3.0, HDMI, SATA III |
| MaxCom | RNUCM-TYBE-5GE | DE3815TYBE | RoughNUC-Max Baytrail Atom, 3X USB 3.0, HDMI, SATA III, GigE, 5 Port GigE Router |
| RoughNUC-Max | RNUCM-MINN | | RoughNUC-Max Tunnel Creek Atom E640, 1GB DDR2, 4MB SPI Flash, GigE, 3X USB, HDMI, SATA III |